The "Classify Image" operation is used to test and classify the image based on the Prediction API created as part of the previous article.
Pre-Requisites
Classify Image Operation
Launch Postman
Get the endpoint Url and Prediction key as indicated in the below screenshot.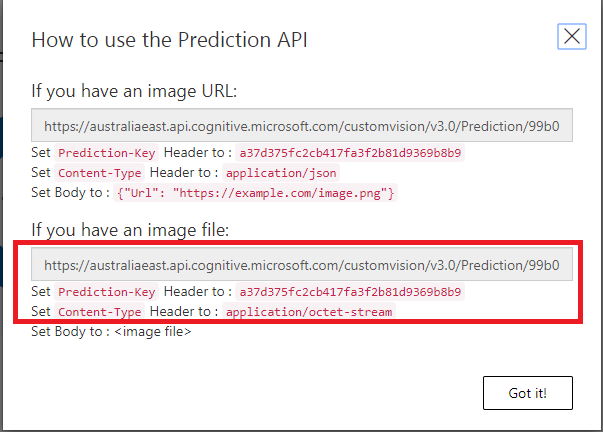 Select the image to test as shown below.


Click on Send and output will be provided as shown below and look at the probability/confidence. The higher the number is higher the accuracy.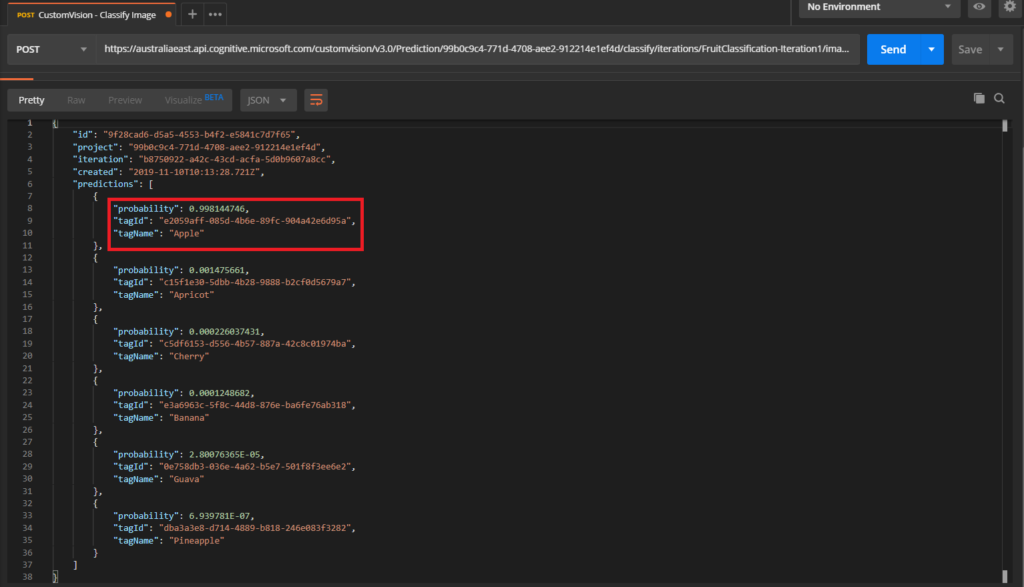 {
    "id": "9f28cad6-d5a5-4553-b4f2-e5841c7d7f65",
    "project": "99b0c9c4-771d-4708-aee2-912214e1ef4d",
    "iteration": "b8750922-a42c-43cd-acfa-5d0b9607a8cc",
    "created": "2019-11-10T10:13:28.721Z",
    "predictions": [
        {
            "probability": 0.998144746,
            "tagId": "e2059aff-085d-4b6e-89fc-904a42e6d95a",
            "tagName": "Apple"
        },
        {
            "probability": 0.001475661,
            "tagId": "c15f1e30-5dbb-4b28-9888-b2cf0d5679a7",
            "tagName": "Apricot"
        },
        {
            "probability": 0.000226037431,
            "tagId": "c5df6153-d556-4b57-887a-42c8c01974ba",
            "tagName": "Cherry"
        },
        {
            "probability": 0.0001248682,
            "tagId": "e3a6963c-5f8c-44d8-876e-ba6fe76ab318",
            "tagName": "Banana"
        },
        {
            "probability": 2.80076365E-05,
            "tagId": "0e758db3-036e-4a62-b5e7-501f8f3ee6e2",
            "tagName": "Guava"
        },
        {
            "probability": 6.939781E-07,
            "tagId": "dba3a3e8-d714-4889-b818-246e083f3282",
            "tagName": "Pineapple"
        }
    ]
}